Ah, John Cassavetes. Few filmmakers so perfectly wear the Outsider label as this pioneering and hugely influential actor-turned-director, and it's thus no suprise that he is regarded with some awe in the is quarter of the film watching world. We've all got our favourites – I know I'm not the only one with a serious thing for The Killing of a Chinese Bookie – but the Cassavetes film that seems to have found most favour with a wider audience is his 1971 Minnie & Moskowitz. And you know what? It is rather wonderful.
Museum curator Minnie Moore's life has not turned out how she expected. She's a divorcee who's just turned 40, with a boyfriend Jim who's married to someone else. A nasty break-up and a blind date that goes horribly wrong lead to a chance encounter with parking lot attendant Seymour Moskowitz. Seymour falls in love at first site with Minnie, professing that "I'm so crazy about you I forget to go to the bathroom." Can he convince his seemingly polar opposite to fall in love with him?
A low budget romantic comedy-drama that is so much more than that half-categorisation suggests, Minnie & Moskowitz was something of a family affair, starring Cassavetes' wife, the extraordinary Gena Rowlands, alongside his mother Katherine Cassavetes, his brother-in-law David Rowlands and several of his children as extras. It also stars two of the director's frequent collaborators, Timothy Carey and the wonderful Seymour Cassel. Oh, it's just great.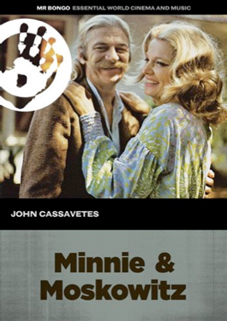 Minnie & Moskowitz makes its UK DVD debut on 4 April 2011 courtesy of Mr Bongo Films at the RRP of £12.99. No extras have been listed.