A family descends into a vortex of denial and paranoia after the death of their oldest son. Though labelled a suicide, the bizarre circumstances lead his mother, Helen to believe there are darker forces at work. Black paint was thrown over every mirror in his house, an explosive trap set in his bedroom and a woman from his past haunts the cemetery where he lies buried. But when Helen's investigation threatens to ruin the life of her daughter and possibly her own sanity, she realizes there is but one escape from this nightmare world - the very route attempted by her dead son.
Written and directed by John Michael Elfers, a self confessed Dario Argento fan, the 2009 Finale is low budget surreal horror film and something of an ode to the great Italian horror films of the 1970's, enjoying success on the US festival circuit and picking up the Audience Award for Best Narrative Feature at the Oxford International Film Festival in Ohio, Best Horror Film at the Seattle True Independent Film Festival and Best Cinematography at the Boston International Film Festival.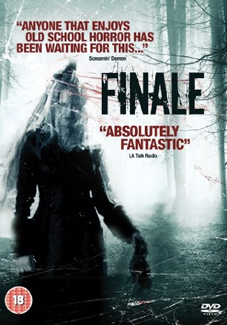 Finale will be released on UK DVD on 14th March 2011 by Crabtree Films at the RRP of £15.99. No extras have been listed.