Berlin based film director Nina Bader wants to shoot a movie about love and sex and invites her actor-friends Hans and Marie for screen tests for a couple of days. For Nina, love is not necessarily a matter of emotion – she is rather looking for an authentic depiction of sex. The intimate collaboration turns into experiments with film, love and bodies and finally has an impact on the private relationships between the three of them. It seems that the boundaries between acting and reality begin to disappear.
Bedways is being touted as "quirky, beautiful and superbly photographed" and "truly exciting and bold German filmmaking," which sets up expectations that are excited somewhat by the claim that director R.P. Karl takes "a liberal and at times experimental approach to cinema" and that he has "crafted a tense and physical drama that examines relationships, sex and the bohemian lifestyle." Perhaps the most intriguing press quote we've heard was from the Berlin Morning Post, which claimed that this is "a film that promises nothing and fulfils everything."
English language reviews are hard to come by yet, but we have picked up that Bedways is sexually explicit ("Only Lars von Trier has been more explicit lately" states the review in Zitty), and if you want an idea of just how far it goes – and please don't if you're prudish – then check out the IMDb keywords for the film here. Even the DVD cover is looking to exclude itself from the shelves at Asda: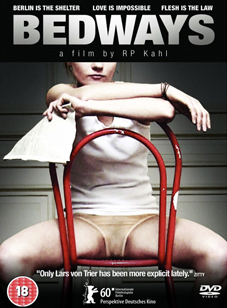 Bedwys will be released on UK DVD on 21st March 2011 by Crabtree Films at the RRP of £15.99. No extras have been listed.