During the 28 years that the Berlin Wall stood, countless tunnels were planned as escape passageways from East to West. Roland Suso Richter's multi-award winning 2001 drama The Tunnel recounts the harrowing tale of the development of the most famous one and was described by the Los Angeles Times as "the most exciting film from germany since Das Boot."
East German swimming champion Harry Melchior flees to the West to escape the communist regime just before the borders are sealed, but his sister is not so lucky and he is determined to free her. Joined by others also desperate to free their loved ones, they have an audacious plan; to tunnel beneath the wall and the 'death strip' partrolled by border guards. But not everyone can be trusted and they are soon digging for their lives in a nerve-racking race against time.
Based on a fascinating true story that takes place in the divided Berlin in 1961, the film stars Heino Ferch (Downfall) and Sebastian Koch (Black Book, The Lives Of Others) and was described by the New York Times as being "as deep and claustrophobic as the hole the group worked so intensely to excavate."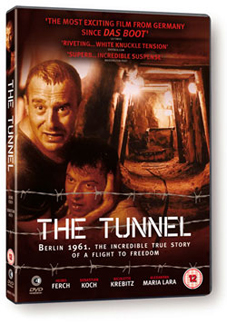 The Tunnel will be released on UK DVD on 25th April 2011 by Second Sight at the RRP of £15.99. There are no extra features listed.