Peccadillo have announced the latest additions to their collections of gay and lesbian short films with Here Come the Girls 3 and Boys on Film 6: Pacific Rim. Both will be released on 28th March 2011 at the RRP of £14.99 each.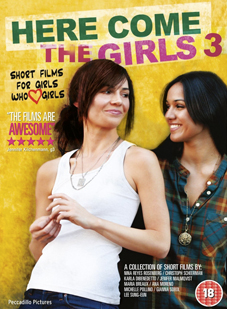 HERE COME THE GIRLS 3
Here Come The Girls, the go-to place for the best and latest lesbian short films, is back! Hosting nine award-winning short films from Sundance to Frameline to Outfest and many more celebrated film festivals, this collection comes packed with a rich variety of shorts that will either have you laughing till you cry, weeping with joy or warming to a bittersweet tale.
Public Relations – Dir. Gianna Sobol (USA) 17mins
Sienna Farall (True Blood) Summer Bishil (The Last Airbender), star in this hilarious short film about a miserable Hollywood assistant who finds romance when her sexy New York counterpart arrives in town. A funny, fresh take on growing up – and getting laid!
Trophy – Dir. Karla DiBenedetto (USA) 10mins
A teenager's routine visit to her father's vacation home turns steamy when she finds herself unexpectedly attracted to her father's fiancée.
Birthday – Dir. Jenifer Malmqvist (Sweden) 18mins
Sara prepares a surprise for her wife Katarina's birthday with the help of their daughter Johanna and their friend Fredrik. But on this early summer day, Katarina has something to tell her that will change their lives forever.
Looking For – Dir. Michelle Pollino (USA) 24mins
Tracy Lawrence has returned to the dating scene after a long absence. So, what does she do when love desperation arises? Why, she utilises a match making service that guarantees results! Or does it?
Lucha – Dir. Maria Breaux (USA) 15mins
Set in 1982 against the backdrop of the insurgency in El Salvador, Lucha traces the plight of two women in love whose only respite from the battles raging against their oppressive government is the solace found in each other's arms.
Mosa – Dir. Ana Moreno (UK) 15mins
Mosa explores a young woman's internal struggle after being the victim of a hate crime rape in South Africa. Now in London, Mosa takes advantage of new opportunities to start a new life, but after feeling objectified once again, she breaks through and finally decides to live on her own terms.
Organism – Dir. Nina Reyes Rosenberg (US) 13mins
The story of the on / off relationship of high school lovers Carmen and Jen. Sometimes surreal but always sexy, this short film places the spotlight on relationship blues in a palette of dayglo pink and blood red.
Fresh Air Therapy – Dir. Christoph Scheerman (Germany) 5mins
A couple of bickering women go to see their therapist to iron out their various squabbles. He has plans to bring them back together with a crafty gadget, but little does he know that a certain bad habit of one of the women will also come into play.
I Am Jin Young – Dir. Lee Sung-eun (Korea) 19mins
A cute and comic film about first love and sexual identity. Schoolgirl Jin's Young's mother brings home another woman and our model student finds herself coming to terms with growing up, a major crush on her mum's girlfriend and puberty.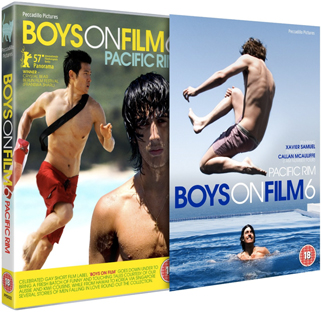 BOYS ON FILM 6: PACIFIC RIM
Boys On Film goes down under to bring a fresh batch of funny and touching tales courtesy of our Aussie and Kiwi cousins, while from the USA and Hawaii to Singapore via Korea several more stories of men falling in love round out the collection.
Rising stars Xavier Samuel and Callan McAuliffe put their own twist on traditional coming out fables in Craig Boreham s second contribution to the Boys On Film library, Drowning and the Berlin Film Festival Crystal Bear winner, Franswa Sharl.
Drowning – Dir. Craig Boreham (Australia) 20mins
Things are changing for Mik. His world has been turned upside down by the sudden death of his big brother forcing him to redefine his place in his family and the world. The one solid thing in Mik s life is his best friend Dan. But Dan has a new girlfriend...
Franswa Sharl – Dir. Hannah Hilliard (Australia) 14mins
On a family holiday to Fiji, twelve year old Greg s creative pursuits fail to amuse his father. Setting out to win back his admiration, he enters himself into a competition with a difference....
Tanjong Rhu – Dir. Boo Junfeng (Singapore) 19mins
A former military officer makes a film about a man he encountered in Tanjong Rhu, a secluded cruising ground. From up-and-coming Singaporean director Boo Junfeng (of Cannes Critics Week and London Film Festival nominated Sandcastle), this film has gained notoriety in Singapore s discreet gay community.
Teddy – Dir. Christopher Banks (New Zealand) 15mins
An earnest Londoner attempts to rekindle an old relationship while on holiday in New Zealand, but a faded old teddy bear from the past ultimately decides his fate.
LOVE, 100°C – Dir. Kim Jho Kwang-soo (South Korea) 22mins
A hearing-impaired boy, Min-so is gay, and he likes his classmate, Ji-seok. One day, Min-so impulsively has sex with a man who works in a public bath, an experience that lends him a new-found confidence, but at a heavy price.
My Last Ten Hours With You – Dir. Sophie Hyde (Australia) 15mins
At 6am Jeremy and Mark will go their separate ways. Their last ten hours together over one hot night will be punctuated with friends, fights and frustrations as they wait it out, each dealing with the loss of love in their own way.
Ron the Zookeeper – Dir. Darcy Prendergast (Australia) 7mins
With only one male grey panda left in the entire world, Ron the zookeeper is sent in to get a sperm sample, no matter what. Eponymous Aussie artist Darcy Prendergast s first wacky claymation creation (before Mary and Max), Ron The Zookeeper was banned from his graduation premiere!
Ajumma! Are You Krazy??? – Dir. Brent Anbe (Hawaii, USA) 25mins
Fuelled by their schoolgirl hormones, three Ajummas , aka Korean soap fanatics - the lovable Judy, Susan the gruff-tough one, and Amy the sassy tart - go on a hilarious journey to try and meet Korean superstar Michael Park by stealing his itinerary, breaking into his hotel room, and sneaking on to his music video set. However, they didn't factor in the competition!