Maybe it's the ease of access to all manner of intriguing perversions that the internet allows, but when I read I title like Wet Job, the images that pop into my head are, I'm sure, wholly inappropriate. I should no better anyway. As someone who adores Callan, one of the finest series in the history of British television, I should recognise the title of its ten-years-after spin-off. Wet Job was a feature-length TV play that was originally broadcast in 1981 and saw Edward Woodward revise his role as the reluctant killer for hire, pressed into espionage for one last time and reunited with sidekick Lonely (Russell Hunter).
Scripted by series creator/writer James Mitchell, Callan: Wet Job revisits the protagonist ten years on – and David Callan hasn't changed much. Retirement has brought a new identity, a new mistress, and a new business in the form of a military shop; but he finds that once a secret-service operative, always a secret-service operative when a call summons him to headquarters and a meeting with the fourth 'Hunter' of his career – a past Callan thought dead and buried. Reactivating it is no pleasure.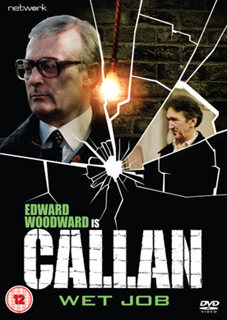 This one-off sequel also stars George Sewell, Hugh Walters (as Hunter), Anthony Smee and Helen Bourne, and will be released on UK DVD on 28th March 2011 by Network Distribution and the RRP £14.99. No extra features have been listed.