2011 is the 40th Anniversary of the death of legendary front man ofone of the most influential groups of the 60s The Doors, Jim Morrison. Just recently we've been treated to Tom DiCillo's documentary on the group, When You're Strange, but their story was previously enshrined by cinema back in 1991 when Oliver Stone made The Doors, which cast Val Kilmer as Morrison, Kyle MacLachlan as Ray Manzarek, Kevin Dillon and John Densmore and Frank Whaley as Robby Krieger. Krieger was an advisor on the film, but Manzarek refused to be involved and subsequently expressed dismay at the result, but the film still found an audience and some critical success.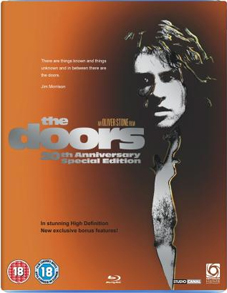 Now Stone's biopic has been restored and is to be released for the first time on UK blu-ray as a 50th Anniversary Special Edition on 18th April 2011 by Optimum Home Entertainment at the RRP of £24.99. The disc will include the following special features:
Back to the Roots - An exclusive documentary highlighting the journey of one of the most influential bands in rock and roll history (52min);
Jim Morrison - A Poet In Paris - The last moments of Jim Morrison in Paris (55min).