Following the critical acclaim of his previous features, Kamikaze Girls and Memories Of Matsuko, genre-busting auteur Tetsuya Nakashima returns with Confessions (Kokuhaku), a notably darker but equally absorbing and typically idiosyncratic work, this time adapted from the award winning debut novel by Kanae Minato.

Written and directed by Nakashima, Confessions was selected as Japan's official entry in the Best Foreign Film category of the 83rd Annual Academy Awards and was the winner of the awards for Best Film, Best Screenplay and Best Director (Tetsuya Nakashima) at the 34th Japanese Academy Awards earlier this year.
Reigning in his impulse to create surreal candy-coloured worlds full of chaos and confusion, with Confessions Nakashima opts instead for an intense drama throbbing with dark emotions and powered by a savage central performance.

Takako Matsu (K-20: Legend Of The Mask) stars as Yuko Moriguchi, a middle-school teacher whose four-year-old daughter is found dead. Shattered, she finally returns to her classroom only to become convinced that two of her students were responsible for her daughter's murder. No one believes her, and she may very well be wrong, but she decides, nevertheless, that it's time to take her revenge. What happens next is all-out psychological warfare waged against her students in an attempt to force them into confessing what she knows in her heart to be true: they are guilty and must be punished.

Building the psychological tension from the film's very start before pulling out all the stops for a devastating and explosive finale, Nakashima has produced what is arguably his most mature and impressive work to date. A strong script, excellent performances from a fine cast and a perfectly pitched soundtrack (that includes tracks by Radiohead, acclaimed Japanese experimental rock band, Boris, and this year's Mercury Prize winners, The XX) make Confessions one of the most original and acclaimed films of the year.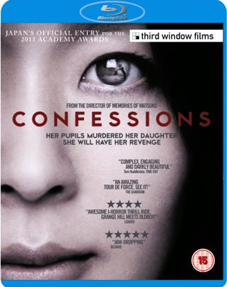 Confessions will be released on UK DVD and Blu-ray on 25th April by Third Window Films at the RRP of £14.99 for the DVD and £19.99 for the Blu-ray.
Both releases will have the following extra features:
70-minute featurette Final Confessions by Tetsuya Nakashima;
Real Confessions by students;
Interview with Tetsuya Nakashima;
Theatrical trailer.