The BFI's Flipside label continues on its mission to expose the hidden history of British cinema, presenting two rare and little seen films – both exploring changing attitudes towards sex and gender equality in 1960s Britain – for the first time on DVD and Blu-ray.
Released on 25th April, James Hill's intimate two-hander, Lunch Hour (1962), stars Shirley Anne Field and Robert Stephens as a couple embarking on an illicit affair, while Mike Sarne's freewheeling Joanna (1968) – often described as 'the female Alfie' – stars Genevieve Waite as a carefree modern girl out to have fun. Available in collectable Dual Format Editions (containing both DVD & Blu-ray discs), these world premiere releases also include rare film shorts, mastered from elements preserved in the BFI National Archive, and come with illustrated booklets containing new essays and original promotional materials.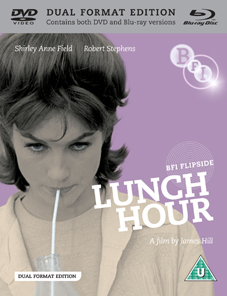 Lunch Hour
Shirley Anne Field (Saturday Night and Sunday Morning) gives an unforgettable, fiery performance as a young designer on the brink of an affair with a married male executive (Robert Stephens) at the company where she works, in a film based on the play by John Mortimer. With a tightly-focused plot telling the story of an illicit lunch-hour rendezvous in 'real-time', this is a stylish and highly-charged story of subterfuge, simmering tensions and sexual conflict.
Also included are director James Hill's delightful colour BP shorts. Much-loved by audiences, these appealing films have been rewarded with new-found appreciation amongst aficionados of so-called 'Trade Test Transmissions', and have never been previously released in any format.
Special features are:
Skyhook (James Hill, 1958, 17 mins): the adventure of oil exploration, deep in the tropics of Papua New Guinea;
Giuseppina (James Hill, 1959, 32 mins): Oscar-winning short in which a young girl watches the quirky characters who pass by her father's petrol station over the course of a summer's day;
The Home-Made Car (1963, 28 mins): a man restores his dilapidated Bullnose Morris, under the watchful eye of a curious young neighbour;
Illustrated booklet with essays by Sue Harper, James Piers Taylor and Rob Harries.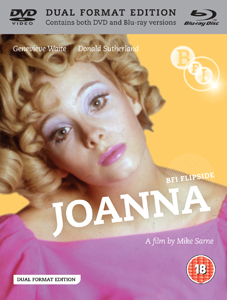 Joanna
17-year-old Joanna is cool, stylish, and determined to start a new life as an art student in Swinging Sixties London. Played with gusto by Genevieve Waite, Joanna indulges in the pleasures of casual sexual encounters, colourful daydreams and an impromptu trip to Morocco with the wise and debonair Lord Peter Sanderson (wonderfully played by Donald Sutherland). But when Joanna falls in love with Gordon (Calvin Lockhart), from Sierra Leone, her life begins to get complicated.
Director Mike Sarne began acting in the early 1960s and shot to fame when his 1962 debut single, 'Come Outside', went to No. 1. He turned to writing and directing in 1966 and, after Joanna, went on to direct the controversial sex change drama Myra Breckinridge (1970). This release also includes Sarne's rarely-seen Road to Saint Tropez (1966), featuring Udo Kier in his first screen role, and the little-known Death May Be Your Santa Claus (1968) directed by Frankie Dymon Junior, who appeared as a Black Power militant in Godard's Sympathy for the Devil, and went on to release the ultra-rare psychedelic album 'Let It Out' in 1971.
Special features are:
Road to Saint Tropez (1966, 31 mins): Sarne's debut film, an 'anti-travelogue' starring Udo Kier, Melissa Stribling and Gabriella Licudi;
Death May Be Your Santa Claus (Frankie Dymon Junior, 1968, 37 mins): an experimental examination of an interracial relationship in late 1960s London;
New interview with Mike Sarne (2010, 16 mins, DVD only);
Joanna, Mike Sarne's novelisation of the film, presented as a downloadable PDF (DVD only);
Illustrated booklet with essays and film notes by Chris Campion (writer and author who is currently working on a biography of John Phillips of the Mamas and the Papas) and an essay by Kodwo Eshun.
Lunch Hour and Joanna will be released individually as dual format editions (containing DVD and Blu-ray) by the BFI under the Flipside banner on 25th April 2011 at the RRP of £19.99 each.
The next BFI Flipside titles, released in July, will be Deep End (1971), starring Jane Asher, 1971) and Requiem for a Village (1975) by David Gladwell, editor of If.... and O Lucky Man!