Documentaries about films and filmmaking have a special place in the heart of most film devotees. Though largely confined to television and DVD special features, every now and then we get treated to a feature-length exploration of a filmmaker or key period of movie history. In recent years we've had The Kid Stays in the Picture (a portrait of legendary producer Robert Evans), Overnight (a cautionary tale of sidden movie success), Lost in La Mancha (a sobering look at how quickly a major film project can fall apart), This Film is Not Yet Rated (an exposé of the workings of the American movie ratings board), Not Quite Hollywood (a celebration of Australian exploitation movies) and Inside Deep Throat (well, you can work that one out for yourself), to name but a few.
Two in the Wave (Deux de la Vague) is the story of a friendship and estrangement involving to of the key figures of French New Wave cinema. Jean-Luc Godard was born in 1930; François Truffaut two years later. Love of movies brings them together. They write in the same magazines, Cahiers du Cinema and Arts. When the younger of the two becomes a filmmaker with The 400 Blows, which triumphs in Cannes in 1959, he helps his older friend shift to directing, offering him a screenplay which already has a title, A bout de souffle, or Breathless.
Through the 1960s the two loyally support each other. History and politics separate them in 1968 and afterwards – when Godard plunges into radical politics but Truffaut continues his career as before. Between the two of them, the actor Jean-Pierre Léaud is torn like a child caught between two separated and warring parents. Their friendship and their break-up embody the story of French cinema.
Exploring the letters, personal archives and films of the two New Wave directors, Emmanuel Laurent's Two in the Wave takes us back to a prodigious decade that transformed the world of cinema.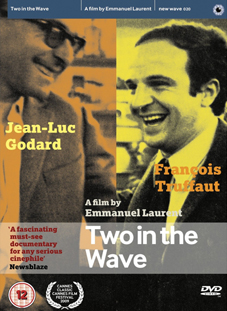 Two in the Wave will be released on UK DVD on 11th April 2011 by New Wave Films at the RRP of £15.99. The only included extra is a trailer.