Theodoor van Gogh was born in The Hague, and is the great-grandson of art dealer Theo van Gogh, the devoted younger brother of artist Vincent van Gogh. He was a film director, producer, columnist, author and actor. Politically well-informed and passionate, director van Gogh was never shy in ensuring that his views on politicians, actors, film directors were known. This was very often done via his column in the newspaper and his films. One of his best known works was Submission: Part 1 (2004), a film that was critical of the treatment of women in Islam. On 2nd November 2004, he was assassinated by Mohammed Bouyeri, a Dutch-Moroccan Muslim.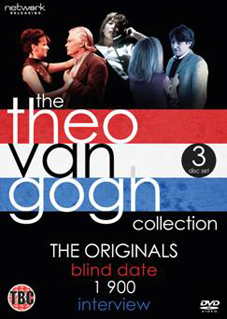 This 3-disc set, to be released in May by Network Releasing, marks the UK DVD premiere of three of van Gogh's features: Blind Date, 1-900 and Interview.
Blind Date (1996)
A bartender watches on as two strangers meet regularly in his bar-Katya, the bereaved mother who loses her daughter, and Pom the former comedian. They are both former performers of some kind. They meet and attempt to get through their individual pain with the conversations that take place with every meeting.
1-900 (1994)
The outrageously frank 1-900 is a lot more than just talk. Two lonely professionals meet through a sex-line and begin a weekly rendezvous via the telephone. Their conversations and interchanges start taking on a life of its own. In turns erotic, funny, frustrating, and even sinister, as they become increasingly attached to one another. Despite the initial rules of the game – the two can never meet, nor even know one another's identities – neither partner can help wishing for more intimate contact. 1-900 is a provocative and sexually charged exploration of the boundaries of imagination, fantasy and power.
Interview (2003)
A war correspondent is sent by the newspaper he works for to interview soap opera actress Katja- much to his chagrin as he considers it a fluffy, irreverent assignment for a serious, political journalist such as himself. Yet as the day progresses and the conversation takes flight, both realise that they are each bringing something out of the other that is long buried.
The Theo van Gogh Collection will be released on UK DVD by Network Releasing on 9th May 2011 at the RRP of £29.99. No extr features have been listed.