Based on the semi-autobiographical story from Andrew McGahan, the film follows the irregular relationship between chain-smoking asthmatic, Gordon (Peter Fenton), and insecure eczema victim Cynthia (Sacha Horler), as they both help one another through the grim situations that they've each wandered into. Through emotional storytelling, this pathetic duo are seen in a whole new light, connecting with one another amidst the drugs, drink and triple word scores.
Praise attracted numerous accolades on its release, including the Australian Film Institute Best Actress award and Best Screenplay Award along with another eight nominations, as well as Best Foreign Film - English Language at the British Independent Film Awards and International Critics' Award at Toronto Film Festival.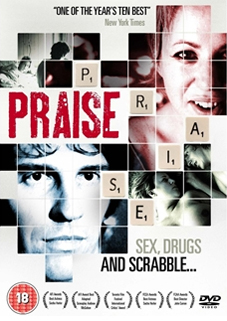 An Australian story of love, never-ending sex and Scrabble, Praise is the multi- award-winning directorial debut from John Curran (Stone, The Painted Veil) and comes to UK DVD on 9 May 2011 from Crabtree Films at the RRP of £10.99.