Salon Kitty probably the most controversial work from director Tinto Brass (he of Caligula and Black Angel) is soon to be released in High Definition for the first time in the UK. An unflinching depiction of moral decay within the Nazi Party at the time of World War II and of how power ultimately leads to corruption, the film has now been newly transferred and fully restored in HD from the Brass' own personal vault materials and comes presented in its original widescreen format, completely uncensored and featuring 21 minutes of previously cut footage.
Based on actual events, the story takes place in Berlin, in 1939, at the start of World War II. SS Officer Helmut Wallenburg (Helmut Berger) is instructed by his superiors to set up an elite brothel, the eponymous Salon Kitty, especially designed to serve high-ranking Nazi officials and foreign diplomats. In order to cater to the clients' darkest perversions and desires sufficiently, Wallenburg is also charged with finding and rigorously training twenty beautiful and intelligent women, who are not only dedicated to the ideals of National Socialism but are also prepared to perform the most extreme acts of debauchery imaginable. What these prostitutes and their customers don't know is that the brothel is bugged and is being used to collect intelligence and to monitor the clients' loyalty to the Nazi Party and its cause. Wallenburg exploits his position, feeding his insatiable need to dominate and using the information he receives to blackmail his way to the top.
Meanwhile, one of the prostitutes, Marguerite (Teresa Ann Savoy), discovers the truth about the brothel when a soldier she loves is executed for revealing to her his plans to defect from the Party. With the help of the brothel's madam, Kitty (Ingrid Thulin), Marguerite plots to turn the tables on Wallenburg and exact her revenge.
As well as boasting notable performances from Helmut Berger (The Godfather Part III; The Damned) and Ingrid Thulin (Cries And Whispers; The Damned; Wild Strawberries), Salon Kitty also features beautiful cinematography from Tinto Brass regular Silvano Ippoliti and sumptuous sets that provide a stunning showcase for the work of two-time Oscar winning production designer Ken Adam (The Madness Of King George; Barry Lyndon), the man responsible for designing the incredible sets for the majority of the James Bond films.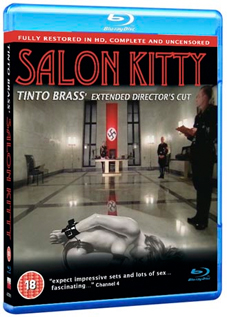 The fully restored, uncensored Director's Cut of Salon Kitty (cert. 18) will be released on Blu-ray by Argent Films on 30th May 2011 at the RRP of £19.99.
Special features will include:
Exclusive 24-minute interview (in English) with director Tinto Brass;
Theatrical trailer;
Argent film trailers.