One of the most celebrated true-life POW escape stories became the basis for a 1955 novel by Joseph Martin Bauer entitled So weit die Füße tragen / As Far As My Feet Will Carry Me and became a best seller in Germany. In 1959 it was turned into a large scale television series, and in 2001 became a feature film, written by Bastian Clevé, Hardy Martins and Bernd Schwamm, and directed by Hardy Martins.
As Far As My Feet Will Carry Me tells the extraordinary story of a German soldier, Clemens Forell, who was imprisoned in a Siberian labour camp at the end of World War II. After enduring four years of brutal treatment he escapes, but beyond the barbed wire of the camp lies one of the most hostile environments on earth. Across 8000 miles of unforgiving terrain, freezing temperatures and constant danger he battles on. The years pass as he fights to survive, digging deep within his soul in the hope of finally being reunited with his wife and child.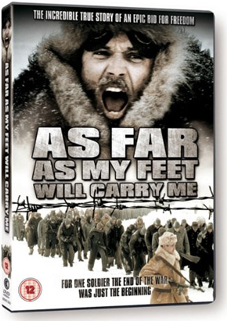 Although acclaimed on home turf, the film has never been available in the UK until now, and will be released in its full length version for the first time on DVD on 6th June 2011 by Second Sight at the RRP of £15.99.
No extra features have been listed, but the running time of 153 minutes at least makes good use of the disc space.