Who Can Kill a Child? (Quién Puede Matar a un Niño?) is a great title, and the film it adorns has something of a rep amongst horror aficionados. Little seen these days and probably unknown to many, this 1976 Spanish genre work was directed by Narciso Ibáñez Serrador, whose only theatrical feature this appears to have been (his other work was all in television) and stars Australia-born actor Lewis Fiander and UK actress Prunella Ransome. If the title is unfamiliar then it's always possible you know it by one of its alternatives, which include Trapped, Lucifer's Curse, Would You Kill a Child?, Island of the Damned (oh please) and Death is Child's Play (rather like that one).
When an English couple holidaying in Spain travel to a small, apparently deserted island, soon the hideous truth reveals itself: all the adults have been killed by the child population, and are far from finished with their systematic slaughter.

With its sun-bleached photography, dread-filled atmosphere and shocking imagery, Who Can Kill A Child? has become one of the most talked-about but little-seen shockers of perhaps cinematic horror's finest decade. This critically acclaimed 1970s horror has been seen as a precursor to films such as Children of the Corn (1984) and The Children (2008)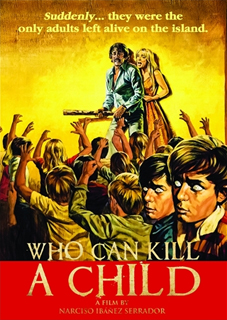 Who Can Kill a Child? will be released on UK DVD for the very first time from the 23rd May 2011 in its original uncut version by Eureka Entertainment at the RRP of £16.34.
There may well be some extra features, but at present they are waiting confirmation.