Would you believe it, Manga Entertainment is almost 20 years old, and to celebrate this they will be releasing on Blu-ray, for the first time ever, the movie that started it all and defined the Manga brand as the world's leading anime distributor – Katsuhiro Otomo's classic Akira. Prior to the Blu-ray release, the film will also open at selected UK cinemas, giving fans the chance to see the film that Variety described as "lavish animation extravaganza" in all its big screen glory.
Neo-Tokyo, 2019. The city is being rebuilt following the devastation of World War III. Kaneda and Tetsuo, two high school dropouts, stumble upon a secret government project to develop a new form of weaponry – telekinetic humans. Tetsuo learns of the existence of his 'peer', Akira, the project's most powerful subject, and determines to challenge him...
Universally acclaimed as one of the greatest anime features of all time that was hailed by The Onion as as "a landmark production that can be watched with equal satisfaction as a metaphorical psychodrama or as a sheer visual spectacular", the film has been digitally restored and remastered in full HD with something the distributor's are calling "Hypersonic" audio, a term that is frankly new to us all here and makes us wonder if we have Hypersonic compatible home cinema systems. Acknowledged as a hugely influential and genre-defining anime, this should by all accounts be Akira as it has never been seen or heard before.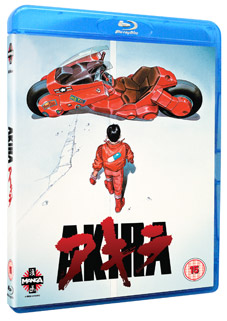 Akira (cert. 15) will open at selected UK cinemas on 17th June 2011 and will be released on Blu-ray and DVD on 27th June 2011 at the RRP of £19.99 for the DVD and £27.99 for the Blu-ray. A special limited edition collectors' SteelBook containing both the DVD and the Blu-ray disc will also be available from 27th June priced £29.99.
All home video versions will feature a digitally remastered picture, English Dolby 5.1 surround, English Stereo 2.0 and Japanese Stereo 2.0 soundtracks (why are we still not hearing a Japanese 5.1 track?).
The only extra features we've been able to pick up on are (unconfirmed) are trailers, storyboards and a possible booklet with the Steelbook Edition. A bit weak for nearly £30 if it's true.