The great Japanese director Shôhei Imamura directed 21 films in during his illustrious career, but only a handful have been made avaialble for UK home viewing. Championing his work are the good people at Masters of Cinema, who have released two of his most celebrated works – the 1979 Vengeance is Mine (Fukushû suru wa ware ni ari) and the 1968 Profound Desires of the Gods (Kamigami no Fukaki Yokubo) – on Blu-ray. Now they have announced the upcoming release of Imamura's 1961 Pigs and Battleships (Buta to gunkan) as a dual format release containing both DVD and Blu-ray versions of the film, plus his rarely seen 1958 debut feature Stolen Desire (Nusumareta yokujô).
With this, his fifth film, Shôhei Imamura finally answered his true calling as Japanese cinema's most dedicated and brilliant chronicler of society's underbelly with the astonishing Pigs and Battleships (Buta to gunkan). A riotous portrait of sub-Yakuza gangsters battling for control of the local pork business in a U.S. Navy-occupied coastal town (Yokosuka), Imamura conjures a chaotic world of petty thugs, young love, tough-headed women, and underworld hypochondria, with one of the most unforgettable climaxes ever to grace the screen.
Featuring dynamic black-and-white 'Scope cinematography, the director's typically sly sense of social commentary, and a host of outstanding performances (including Jitsuko Yoshimura from Onibaba), Pigs and Battleships immediately became a cornerstone of the Japanese New Wave and remains perhaps Imamura's most sheerly entertaining work.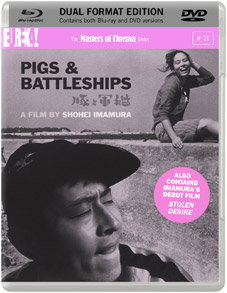 Pigs and Battleships will be released as a UK dual format edition (containing both DVD and Blu-ray) on 27th June 2011 by Eureka as part of the Masters of Cinema series at the RRP of £25.52.
Featuring an exclusively restored high-definition master from the original camera negative (1080p on Blu-ray) and newly translated English subtitles for both films, the release will have the following extras:
Stolen Desire [Nusumareta yokujô] (1958), Imamura's debut feature for Nikkatsu in a new high-definition transfer [93 minutes] (1080p on Blu-ray);
A booklet featuring essays on both films by Tony Rayns and rare stills.