The directorial debut of one Dario Argento, The Bird With The Crystal Plumage sees the Italian master of terror drawing up a blueprint for cinematic Giallo with a brutal thriller that packs a gory brace of horrific murders alongside its genre defining mix of red herrings, leather gloved slashers and stylish decor.
When Sam, an American writer living in Rome, witnesses an attempted murder in an art gallery and reports the crime to the police, he unwittingly sets the killer's sights on himself and his beautiful model girlfriend. Things soon start to unravel as it becomes clear that, with the identity of the villain very much open to question, Sam himself is a prime suspect in the case. As the murders continue, Sam begins his own investigations into the serial killings hoping to somehow clear his name. But in doing so he becomes involved in a deadly relationship with the unknown slayer.
Starring Tony Musante (We Own The Night; Traffic; The Yards) and Suzy Kendall (Torso; Spasmo), and boasting music by award winning composer Ennio Morricone and cinematography by three-time Oscar winner Vittorio Storaro, Argento's groundbreaking shocker combines eye-popping visuals with a seamy vein of sadomasochism and a lust for violence to create a genre-defining movie classic.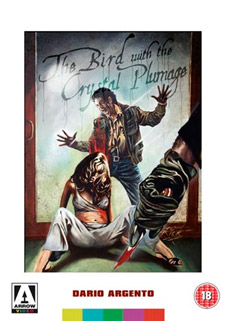 The Bird With The Crystal Plumage (cert. 15) will be released on Blu-ray by who else but Arrow Video on 23rd May 2011 at the RRP of £19.99.
Boasting a band new High Definition restoration of the film from the original negative presented in director of photography Vittorio Storaro's original 2:1 Univisium aspect ratio and original Italian and English LPCM mono audio options, the disc will include the following extras:
A Crystal Classic: Luigi Cozzi Remembers Dario's Bloody Bird;
Sergio Martino: The Genesis Of The Giallo;
The Italian Hitchcock: Dario Argento Remembers The Bird With The Crystal Plumage;
Exclusive collector's booklet featuring brand new writing on the film by Alan Jones, author of Profondo Argento;
Four sleeve art options with original and newly commissioned artwork;
Two-sided fold-out poster.