The novel The Cruel Sea by Nicholas Monserrat was an unflinching portrayal of life at sea during WWII on a boat tasked with protecting convoys and seeking and destroying U-boats. A runaway success, the novel had already sold over 4 million copies in just 2 years when Ealing decided to make the film version.
Filmed aboard an actual Royal Navy corvette, The Cruel Sea (1953) tells the story of the sailors aboard the HMS Compass Rose: the bonds that form between them, the daily pressures they face and their epic struggle to overcome the enemy.
Nominated for a BAFTA for Best British Film, The Cruel Sea stars Jack Hawkins, Sir Donald Sinden and Stanley Clarke, Denholm Elliott, Stanley Baker and Virginia McKenna and is a gripping insight into the lives of unsung heroes at sea during the war, and the agonizing decisions and incredible peril they faced on a daily basis.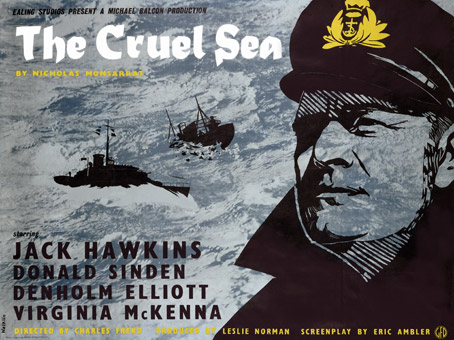 The Cruel Sea will be released on UK Blu-ray with a digitally restored transfer by Optimum Releasing on 13th June 2011 at the RRP of £19.99.
The following extras have been confirmed:
Interview with Donald Sinden;
Stills gallery.