Cross of Iron was the only war film directed by the late, great Sam Peckinpah and remains one of his most exquisitely realised works. With the same tenacity and style he brought to such classics as The Wild Bunch, Straw Dogs and The Getaway, Peckinpah delivers a riveting and violent tale of men on the front lines of battle, adapted from Willi Heinrich's novel The Willing Flesh.
Set in 1943, the film centers on Corporal Steiner (James Coburn), an accomplished but war-weary combat veteran leading a group of German soldiers on the Russian front. Steiner's authority comes under attack when Captain Stransky (Maximilian Schell) takes over the command of his troops. A Prussian aristocrat, Stransky has one goal in mind: to win the coveted Iron Cross, Germany´s highest medal, at any cost. The two military aces soon face off in an intense and deadly battle of wills. Highlighted by Peckinpah's trademark balletic violence, razor-sharp editing and realistic battle scenes, it boasts a superb supporting cast that includes James Mason, Senta Berger and, in one of his best ever roles, David Warner.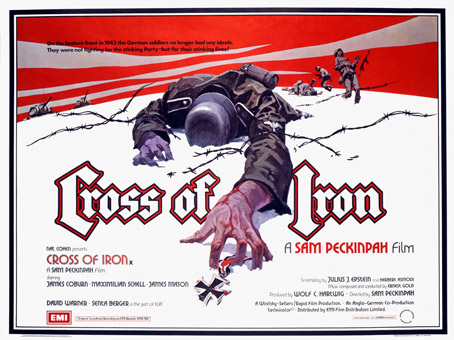 Featuring a digitally restored transfer, Cross of Iron will make its UK Blu-ray debut on 6th June 2011 from Optimum Releasing at the RRP of £15.99.
The all new extra features are as follows:
Passion & Poetry - Sam Peckinpah's War (46:00): A documentary by Mike Siegel featuring James Coburn, Senta Berger, David Warner, Vadim Glowna, Roger Fritz, Katy Haber & Sam Peckinpah.
5 featurettes with 1976 on-set audio interviews:

Sam Peckinpah (5:06)
James Coburn (5:30)
James Mason (6:05)
Maximilian Schell (4:35)
David Warner (3:14)

Featurette Krüger Kisses Kern (8:27)
Letters From Vadim & Sam featurette (3:48)
Vadim & Sam - Son & Dad featurette (5:55)
Cutting Room Floor featurette (4:19)
Mike's Homemovies featurette - Steiner meets Kiesel again (7:16)
Steiner In Japan (2-3 mins)
Before & After Restoration Comparison
German Trailer (3:10)
USA TV-Spot (0:30)
USA/UK Trailer (3:42).