James Franco (Milk, Spiderman) plays Aron Ralston, an extreme sports enthusiast who enjoys nothing more than exploring his natural surroundings and pushing is body to the limit. One weekend he goes canyoneering in the breath taking and remote Blue John Canyon in Utah to do what he loves most, but without telling anyone where he is going, and leaving his mobile phone behind…
Aron is in the middle of a routine climb when a boulder suddenly becomes dislodged just above him crashing onto his arm and leaving him trapped in solitude inside a dark, isolated canyon. Over the next five days Ralston does everything he can to prolong his life while wrestling with hunger, thirst, flashbacks and hallucinations.
Adpated from Aron Ralston's recounting of his own experiences, Between a Rock and a Hard Place, and directed by Danny Boyle on the tail of his Oscar success with Slumdog Millionaire, 127 Hours was nominated for sex Oscars, including Best Picture, Best Adapted Screenplay and Best Actor, and was also nominated for seven BAFTA awards, including Best Screenplay (Adapted), Best Actor, and the David Lean Award for Achievement in Direction for Boyle. In total the film received over 70 award nominations at festivals around the world.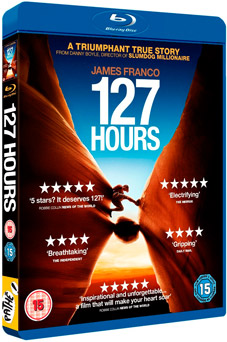 127 Hours will be released in the UK on Blue-ray double-play (which also includes the DVD) and a stand-alone DVD from Pathé Productions Ltd on 6th June 2011 at the RRP of £24.99 for the Blu-ray double-play and £19.99 for the DVD. The Blu-ray disc comes with a generous helping of special features including the Academy Award winning short film God of Love, Search & Rescue, which retraces the actual events that aided in the search and rescue of Ralston, and 127 Hours: An Extraordinary View, which details the collaboration between Danny Boyle and James Franco.
The Blu-ray will include the following extras:
Audio Commentary;
Deleted Scenes;
127 Hours: Movie Premiere Special;
Search & Rescue Featurette;
127 Hours: An Extraordinary View;
Short Film – God of Love.
The DVD will have the following extras:
Audio Commentary;
Deleted Scenes;
127 Hours: Movie Premiere Special.
Watch the trailer here: