Meg Tilly (The Two Jakes), Eric Stoltz (Pulp Fiction) and Craig Sheffer (A River Runs Through It) star in the inventive and memorable 1994 Sleep Wih Me, which is set to makes its UK DVD debut in June courtesy of Network Releasing.
Crafted by 6 different writers, this quirky love-triangle comedy contains a memorable cameo from Quentin Tarantino as a film buff (no kidding) discussing the homosexuality of Top Gun, a scene that prompted a number of retaliatory critical articles claiming he was way off base. Personally I think he makes a persuasive point.
Joseph (Eric Stoltz) and Frank (Craig Sheffer) are the best of friends. Both are also in love with Sarah (Meg Tilly); a precarious, angst-ridden ménage a trios that is complicated still further by the marriage of Sarah and Joseph...
Originally screened at the 1994 Cannes Film Festival, Sleep With Me co-stars Parker Posey and Joey Lauren Adams, but its the script that sets this film apart from other relationship comedies, with each of the six writers (Duane Dell'Amico, Roger Hedden, Neal Jimenez, Joe Keenan, Rory Kelly and Michael Steinberg) handling a different scene. Superior dialogue, sensitive direction and a palpable chemistry between the leads create a warm, funny and human screenplay.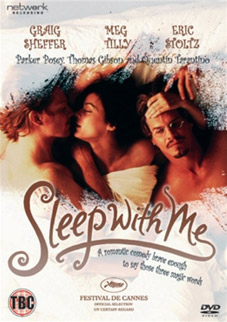 Sleep With Me will be released on UK DVD by Network Releasing on 13th June 2011 at the RRP of £12.99.
No extras have been listed.