At the Blue Iguana, in the heart of LA's San Fernando Valley, the lives of five strip club dancers converge over the course of one week. Angel (Daryl Hannah), attempts to qualify as a foster mother; Jasmine (Sandra Oh), is a clandestine poet who finds love at a coffee house reading; Jo (Jennifer Tilly), faces an unplanned pregnancy; Stormy (Sheila Kelley), confronts her bewildering past and Jesse (Charlotte Ayanna) gets a tough introduction to life in LA. This glimpse into the oft-misunderstood world of the strip club bares each girl inside and out both onstage and off, providing an insight to the story behind the dance.
From Michael Radford, the Oscar-winning director of Il Postino and the controversial, sexually charged drama White Mischief, Dancing at the Blue Iguana is a gritty, unglamorous and semi-improvised film that explores the complex intersecting lives of six exotic dancers who work at an LA strip-club.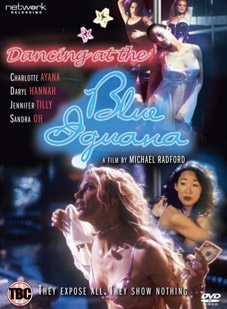 Dancing at the Blue Iguana (18) will be released on UK DVD by Network Releasing on 27th June 2011 at the RRP of £12.99.
No extras have been listed.