After completing Apocalypse Now, Francis Ford Coppola initially planned for his next picture to be an intimate romantic musical shot on a low budget in Las Vegas. Three years later, One from the Heart had become a big-budget spectacular, shot on strikingly stylized sets at his newly opened Zoetrope Studio. Singer/songwriter Tom Waits received an Oscar nomination for his song score, which he performed with country crooner Crystal Gayle, but the spiralling production costs (the projected budget was $2 million, the actual cost exceeded £25 million) led to Coppola declaring bunkruptcy
Las Vegas. It's the 4th of July. Hank (Frederick Forrest – Hammett and Apocalypse Now) and Frannie (Teri Garr – Tootsie, Close Encounters of the Third Kind) break up while celebrating their 5 year anniversary. They both set off in search of new partners and in no time, Frannie meets a suave singer-waiter (Raúl Juliá – The Escape Artist, The Addams Family) and Hank meets a lovely circus performer (Nastassia Kinski – Tess, Cat People). But they still love each other, and their search for romance brings them back into each other's arms.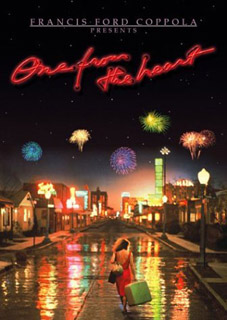 One From the Heart will be released in the UK on DVD by Optimum Releasing on 27th June 2011 at the RRP of £15.99.
Special features will include:
The Dream Studio documentary;
Tom Waits and the Music of One from the Heart documentary;
The Electronic Cinema documentary;
The Making of One from the Heart documentary;
Deleted and alternate scenes (2 with audio commentary by Coppola;
Alternate music takes;
Video of Zoetrope Studios press conference;
Video of Francis Coppola speaking to exhibitors;
This One's from the Heart music video;
Stop motion demo;
Videotaped rehearsals;
2 theatrical trailers.