Premiered at last year's Venice Film Festival and the 54th BFI London Film Festival, and shown in cinemas in November, Patrick Keiller's third film-essay in his Robinson series, after London and Robinson in Space, is to be released by the BFI on DVD and Blu-ray in June in a Dual Format Edition.
One of Britain's most intellectually stimulating filmmakers, Patrick Keiller is widely acclaimed for London (1994), his extraordinary portrait of the UK capital, and Robinson in Space (1997), his highly original meditation on 'the problem of England'. In Robinson in Ruins, his eagerly awaited follow up to the earlier films, Keiller revisits the English landscape, this time applying his beguiling wit and acute powers of observation to our current environmental and economic predicament.
An intriguing blend of fiction and documentary, Robinson in Ruins presents the findings of the trilogy's mysterious would-be scholar and original narrator, Robinson, who, after having been released from prison, has been haunting the Oxfordshire countryside with a ciné camera. When his film cans and notebook are discovered in a derelict caravan, the results of his search for the origins of capitalist catastrophe in the English landscape are assembled as a film that is narrated by their institution's co-founder (voiced by Vanessa Redgrave).
The resulting film – reflecting the range of Robinson's preoccupations, as well as his curiosity and apparent erudition – is interwoven with references to the deepening economic crisis, looming environmental catastrophe, Shelley, Marx, the war in Afghanistan and the Captain Swing riots of 1830. Yet Robinson also detects more hopeful signs: alongside striking images of a landscape littered with 'keep out' signs, wire fences, satellite dishes and military installations, there are also exquisite cloudscapes, the blossoming hawthorn tree on Greenham Common (now returned to civil use) and unexpected orchids flourishing defiantly on the edge of a motorway.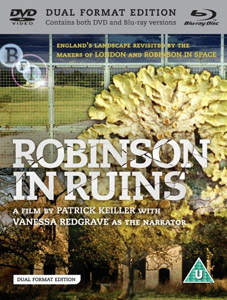 Robinson in Ruins will be released on Dual Format (containing both Blu-ray and DVD editions) by the BFI on 20th June 2011 at the RRP of £19.99.
The following extra features will be included:
Optional effects-only soundtrack;
Panel discussion: Patrick Keiller, Doreen Massey, Patrick Wright and Matthew Flintham on their project The Future of Landscape and the Moving Image (2011, 15 mins, DVD only);
Original theatrical release trailer (DVD only);
Downloadable PDF of Doreen Massey's essay: 'Landscape/space/politics' (DVD only);
Illustrated booklet with introduction by Patrick Keiller, notes by Doreen Massey and review by Mark Fisher.