A film that gained much notoriety at the time of its original release for star Linda Blair's totally gratuitous nude scene and her blatant use of the 'c' word, the outrageous vigilante action flick Savage Streets is without a doubt one of 80s exploitation cinema's greatest guilty pleasures. Now, this undisputed classic is coming to DVD completely uncut for the first time in the UK and featuring a host of extra features including audio commentaries by the cast and crew, interviews with Linda Blair and Linnea Quigley, and much more.
Directed by Danny Steinmann (Friday The 13th Part V: A New Beginning; The Unseen) and starring Linda Blair (The Exorcist), John Vernon (Animal House) and legendary Hollywood scream queen Linnea Quigley (Return Of The Living Dead; Night Of The Demons; Hollywood Chainsaw Hookers), Savage Streets is an all-out celebration of violence, nudity, big hair, poor fashion decisions and chicks with attitude.
During a night out cruising around Hollywood Boulevard, tough-talking high schooler Brenda (Blair) and her gang of sassy girlfriends, The Satins, cross paths with a bunch of local low life thugs calling themselves The Scars. When their advances on the girls are spurned in no uncertain terms and their prized convertible ends up dumped full of garbage, The Scars suffer a severe blow to their combined ego that demands a response.
Their barbaric retaliation takes the form of a violent sexual assault on Brenda's deaf-mute little sister, Heather (Quigley), that leaves the young girl fighting for her life. Determined to avenge her sister, Brenda tools up with an unlikely assortment of deadly weapons and takes to the streets in search of those responsible and for whom she is unwilling to show any mercy.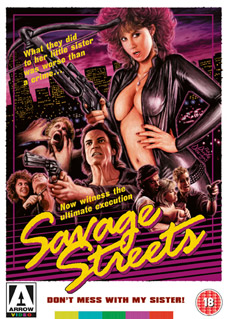 Savage Streets (cert. 18) will be released on DVD by Arrow Video on 20th June 2011 at the RRP of £11.99.
Featuring a brand new transfer of the film, uncut for the first time in the UK, the release will have the following extras:
Audio commentary by stars Sal Landi, Robert Dryer and director of photography Stephen Posey;
Audio commentary by director Danny Steinmann;
Audio commentary by producer John Strong and stars Robert Dryer and Johnny Venocur;
Interviews with Linda Blair, Linnea Quigley, Robert Dryer and John Strong;
Collectors' booklet featuring new writing on Savage Streets by Kier-la Janisse, author of A Violent Professional: The Films of Luciano Rossi and House of Psychotic Women;
Original trailer;
Reversible sleeve with original and newly commissioned artwork;
Double-sided fold-out poster.