In 1965, Richard Hughes' classic 1929 novel was transformed into a magnificent film adaptation by screenwriters Stanley Mann (The Mouse That Roared, Theater of Blood), Ronald Harwood (The Dresser, The Pianist, The Diving Bell and the Butterfly) and Denis Cannan (The Amorous Adventures of Moll Flanders), and revered director Alexander Mackendrick (Sweet Smell of Success, The Ladykillers, Whisky Galore). The film also features cinematography by Douglas Slocombe (Rollerball, Raiders of the Lost Ark) and music by the great Larry Adler (Genevieve)
Two British parents living in the West Indies in the 1870s decide to send their children home to be schooled in England. However, when their ship is attacked by pirates and the children are accidentally transferred onto the enemy vessel, their presence begins to stir up trouble amongst the superstitious crew.
Featuring wonderful turns from Anthony Quinn (La strada, Lawrence of Arabia, Zorba the Greek), James Coburn (The Magnificent Seven, The Great Escape), and Deborah Baxter (The Wind and the Lion) in a remarkable debut performance as Emily, this is a thrilling adventure classic and a subtle, captivating look at the boundaries of childhood perception.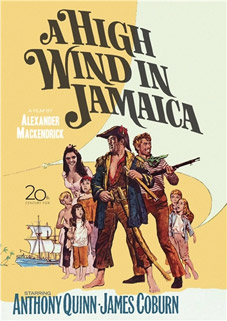 A High Wind in Jamaica will be released on UK DVD for the first time, with a new high-definition transfer, in its correct 2.35:1 aspect ratio, on 25th July 2011 by Eureka Entertainment at the RRP of £16.34.
Also included will be two theatrical trailers.