Anyone who's followed the career of Brian De Palma will be well aware of his love of Hitchcock, a love that has seen him borrow from the Master on a regular basis and occasionally step into the realms of the Hitchcock remake (or, as some would have it, "homage"). The influence of Rear Window is obvious on his 1984 Body Double, but between his critically acclaimed but commercially disappointing Phantom of the Paradise and his career-making Carrie, he took on Hitchcock's magesterial Vertigo (with additional references to Notorious and Dial M for Murder) with his 1976 Obsession. Despite setting himself up for the mightiest of falls, he equits himself rather well, aided as his is by a script by respected filmmaker Paul Schrader and fine central performances from Cliff Robertson and Genevieve Bujold, and in only his second feature performance, John Lithgow.
Michael Courtland is a Southern gentleman who seems to have everything – a successful business, a beautiful wife and an adoring young daughter – until a botched kidnapping tears his world apart leaving him widowed, bereaved and bereft. Years later on a trip to Italy, he meets a young woman, Sandra Portinari, who bears an uncanny resemblance to his late wife. Romance blooms and the couple returns to New Orleans with plans to get married. However, on the day of their wedding, history begins to repeat itself when Sandra is kidnapped and held for ransom, sending Michael spiralling into an all-too-familiar nightmare.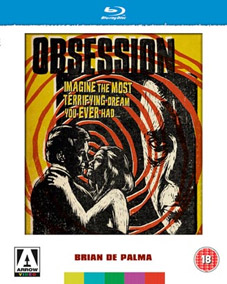 Hailed by Rex Reed in the New York Daily News as "An immensely important cinematic work" and "as good and often better than anything Hitchcock has ever done" – which despite its considerable qualities, it isn't – Obsession will be released on Blu-ray only on 27th June 2011 by Arrow Video at the RRP of £19.99.
Featuring the LPCM Mono Audio and 5.1 DTS-HD Master Audio soundtracks and optional English subtitles for deaf and hearing impaired, plus the following extras:
Paul Schrader's original screenplay of the film in a perfect bound booklet, detailing un-filmed sequences and a tripartite structure that deals with the past, present and future of protagonist Michael Courtland;
Obsession Revisited, featuring interviews with director Brian De Palma, stars Cliff Robertson and Genevieve Bujold and more;
Early Brian De Palma short films Woton's Wake (1962) and The Responsive Eye (1966);
Exclusive collector's booklet featuring an essay on the film by critic and author Brad Stevens;
Original trailer;
Four panel reversible sleeve with original and newly commissioned artwork;
Two-sided fold out poster.