La veuve de Saint-Pierre (The Widow of Saint-Pierre) is the Golden Globe nominated 2000 film from respected French filmmaker Patrice Leconte (Ridicule, The Hairdresser's Husband). Starring Juliette Binoche (Three Colours: Blue, Chocolat), Daniel Auteuil (Jean de Florette, Hidden), and Emir Kusturica (the celebrated Serbian director of Time of the Gypsies, Underground, Black Cat, White Cat) in a story set in 1850, on Saint-Pierre, a forgotten small island near Canada.
Neel Auguste (Kusturica) is found guilty and condemned to death, but there is neither a guillotine nor an executioner to carry out the sentence. While waiting for a guillotine to arrive from France, Neel is placed under the custody of the Captain (Auteuil) and his wife (Binoche). Little by little, the condemned man becomes indispensable and his popularity soars. But when the guillotine arrives by boat, justice must be done and the battle to save Neel's life escalates.
Nominated for acting César Awards for Juliette Binoche and Emir Kusturica and for Best Foreign Language Film at the 2001 Golden Globes, it was described by Peter Bradshaw in The Guardian as a film that "amplifies our sense of [Patrice Leconte's] flair for classically simple storytelling, his skill with ideas, his bold visual sense of place and his happy ability to elicit visceral and well-realised performances from an accomplished cast.'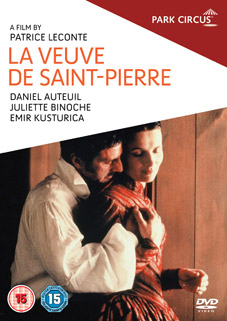 La veuve de Saint-Pierre will be released on UK DVD by Park Circus on 13th June 2011 at the RRP of £15.99.
The following extras are included:
Interview with Juliette Binoche;
Theatrical Trailer.