Groundbreaking and perpetually controversial director Lars Von Trier's critically acclaimed (and frankly quite brilliant) TV series The Kingdom (Riget) made a huge impact when it first aired and quickly achieved cult status and its reputation continues to grow.
Now for the first time ever in the UK comes the full-length original broadcast version of The Kingdom Series I and II, which will be released as a four-DVD collectors set complete with some tantalising bonus features courtesy of Second Sight in July.
Within the walls and labyrinthine corridors of a Danish hospital, otherworldly events are unfolding. The ghost of a young girl haunts the lift, a phantom ambulance appears each evening and the eccentric staff are preoccupied with secret societies, malpractice cases and a pregnancy that has taken a frighteningly bizarre turn. Amid the unfolding drama, spirits and demons have been awakened. Welcome to The Kingdom.
Described by Variety as "a lunatic, Twin Peaks-like meld of black-comedy soap and Z-grade horror flick that looks like an instant cult item," The Kingdom is strange, surreal, sinister and blackly comic, and showcases Von Trier at his most compelling.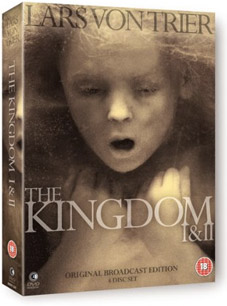 The Kingdom Series I and II will be released as a four-DVD collectors set in the UK by Second Sight on 4th July 2011 at the RRP of £39.99.
The following special features will be included:
Tranceformer: A Portrait of Lars von Trier;
In Lars Von Trier's Kingdom;
Behind The Scenes;
TV commercials directed by Lars Von Trier;
Selected scene commentaries.