A gory guilty pleasure from the golden age of the slasher movie genre, the 1986 Slaughter High comes to DVD completely uncut for the first time in the UK and featuring a host of special features that includes audio commentaries by co-writer/co-director Mark Ezra and the film's star, legendary Scream Queen, Caroline Munro.
Years after a routine April Fool's Day ritual humiliation of the school nerd ends in disaster for the victim, a group of former students of all-American Doddsville County High School return to their old seat of learning for a class reunion. Despite finding the building run-down and boarded up, they decide to go ahead with their planned night of celebrations anyway and break in to the property. But drunken merriment soon turns to terror when one of their number meets a gruesome and very painful end after drinking a spiked can of beer. Further unexpected horrors point to the presence of Marty, the teenage geek they mercilessly bullied all those years ago. Now, trapped in the dark, dank corridors of their old alma mater, the former students of Doddsville are forced to become this year's April Fools as they face the horrific revenge of Slaughter High's most original and gifted psycho killer.
Co-directed by George Dugdale (Living Doll), Mark Ezra (House Swap; Savage Hearts) and Peter Litten (To Die For; Living Doll) and starring Caroline Munro (Maniac) alongside Emmerdale's very own late Terry Woods, Billy Hartman (Highlander), the film utilises the classic "psycho takes revenge on his tormentors" theme to bring to the screen an amusing slew of inventive murders that includes graphic deaths by coathook, exploding intestines, cesspit, acid bath, javelin, lawnmower and a sex scene that can only be described as electrifying!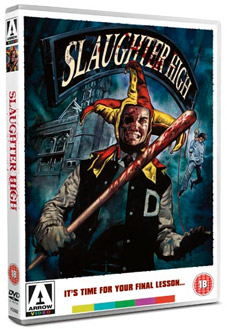 Slaughter High (cert. 18) will be released on DVD by Arrow Video on 11th July 2011 at the RRP of £15.99.
Special Features will include:
Introduction by co-writer/co-director Mark Ezra;
Jesters And Jolts – and interview with Mark Ezra;
Lamb To The Slaughter: The Scream Queen Career Of Caroline Munro;
Audio commentary by Mark Ezra moderated by Teenage Wasteland author J. A. Kerswell;
Audio commentary by Caroline Munro, DVD World editor Allan Bryce and author and critic Calum Waddell;
Trailer;
Collectors' booklet featuring brand new writing on the film by author Troy Howarth, an interview with legendary composer Harry Manfredini by Calum Waddell and an interview with star Josephine Scandi by Justin Kerswell;
Reversible sleeve with original and newly commissioned artwork by Graham Humphreys;
Double-sided fold-out artwork poster.