The year is 1932 and in Japanese occupied Manchuria corrupt military forces have begun taking over the karate dojos for their own future benefit. Amidst this chaos, the master of one such dojo dies before passing on the "Kuro-obi" to a worthy successor, instead leaving it the hands of one of his apprentices, who must decide who deserves it most. After burying their master, the three most likely candidates are forced from their dojo and into the employment of the military to serve as martial arts instructors. Their individual responses to their fates lead each man on a vastly different and very personal path, at times pitting the former colleagues against each other as they seek the true understanding of their master's teachings.
The deep-rooted values of honour, loyalty and friendship are all put to the test as the competition to become the next deserved recipient of the prestigious "Kuro-obi" intensifies, ultimately leading to a brutal showdown that holds potentially tragic repercussions for all those involved.
Directed by Shunichi Nagasaki (Heart, Beating In The Dark; Shikoku) and starring leading Japanese black belt karate experts Akihito Yagi (High-Kick Girl), Tatsuya Naka (High-Kick Girl) and Yuji Suzuki (Godzilla: Final Wars), Black Belt (Kuro obi) has been hailed as one of the most authentic and powerful feature film depictions of karate ever. Touted as the movie that will do for karate what Ong Bak did for the martial art of Muay Thai, Black Belt takes a "no wires, no CGI, no special effects" approach to portray, we are assured, the real bone-crushing force of hand-to-hand combat in uncompromising fashion.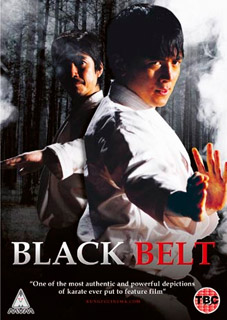 Black Belt will be released on UK DVD by MVM on 8th August 2011 t the RRP of £15.99.
There are no extra features listed.