Channel 4's once popular The 11 O'Clock Show, which unleashed the likes of Ali G and Ricky Gervais on the world, has now allowed another of its regular characters to escape into movies in the shape of hard Man Bulla, played by actor and comedian Ricky Grover (Dead Cert, Eastenders). Orginally titled simply Bulla or Bulla: The Movie, depending on who you believe, we can presume that someone became a tad nervous about the commercial potential of a a film titled after a ten-year-old character from a cult British TV series, and opted instead to retitle the film Big Fat Gypsy Gangster, presumably to align it with the already established Big Fat Gypsy Wedding series, which it probably has little to do with otherwise. But maybe I'm being cynical.
After serving sixteen years at her majesty's pleasure, Bulla is out on the streets again, but things start to go wrong from the moment he steps out when he finds out he's lost everything on the outside world. Fleeced by the same corrupt copper that put him behind bars, even his favourite aunt Queenie is about to lose the roof from over her head; in Bulla's world family is everything. It's time for Bulla to fight back.
The film also stars Omid Djalilli (The Infidel, Sex & The City 2), Steven Berkoff (The Tourist, The Krays, The Girl with the Dragon Tattoo), Rufus Hound (comedian/winner 2010 Let's Dance for Comic Relief), Peter Capaldi (Bean, In the Loop), Leo Gregory (Green Street Hooligans) and Ndubz singer Tulisa.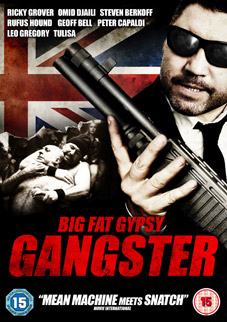 Big Fat Gypsy Gangster (formerly Bulla, which it's still called on IMDb if you want to look it up) will be released on UK DVD by 4Digital Media on 26th September 2011 at a yet to be confirmed RRP.
Extra features will include:
Audio commentary by Bulla;
Deleted scenes;
Bulla phrasebook.