Large scale Chinese historical action epics are all the rage on their home turf at the moment, and new to the list is The Lost Bladesman (Guan yun chang), which was co-written and co-directed by the duo responsible for the Infernal Affairs trilogy, Alan Mak and Felix Chong, and stars Donnie Yen (14 Blades; Bodyguards And Assassins; Ip Man), Jiang Wen (The Founding Of A Republic), Alex Fong (Triple Tap; Once A Gangster) and Sun Li (Fearless), with action choreography by Donnie Yen.
Yen stars as the legendary warrior Guan Yun Chang, sworn brother of the great warlord Liu Bei, who, on becoming separated from his friend during the tumultuous warring period of the Three Kingdoms, is taken prisoner by and agrees to fight temporarily alongside Liu Bei's enemy and rival warlord, Cao Cao.
Guan's heroism on the battlefield is rewarded with the title of Marquis of Hanshou and promotion to the rank of lieutenant general in Cao Cao's army. The position allows him the freedom to escort Liu Bei's concubine, Qi Lan, who is being held hostage by Cao Cao, back to her lord and master. But the journey is fraught with danger as Guan and Qi Lan must make their way through a number of mountain passes, all of which are occupied by enemy generals and their armies.
BeyondHollywood.com assure us that "Yen's choreography is as stunning as ever, never relying too much on slow motion and showing a creative use of light and shadow during many of the set pieces," and that the film is "one of the better Chinese historical epics of recent years, and one of Yen's more substantial outings, a film which provides plenty of martial arts thrills without dumbing down the story too much or simply relying on his trademark skills and winning smile." Sounds hopeful.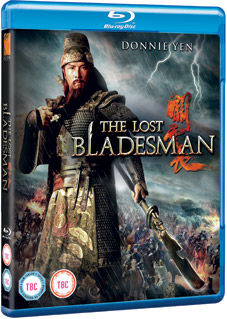 The Lost Bladesman will be released on UK DVD and Blu-ray by Icon Home Entertainment on 8th August 2011 at the RRP of £15.99. Surprisingly, no extra features have been listed.