Strigoi is, we are told, a vampire movie that defies easy categorisation. Shedding a fantastic light on a post-communist Romanian village, it introduces us to an ancient myth: Strigoi, the souls that rise again after death to seek justice if they've been wronged, their appetites intensified by a hunger for blood.
Vlad Cozma (Catalin Paraschiv) is a young man returning to his grandfather's village from Italy, with barely a foot through the front door Vlad dives head first into investigating a mysterious death that raises questions about land ownership in the community. The trail points to ex-communist bully Constantin Tirescu (Constantin Barbulescu) and his wife, but when Vlad confronts them, he discovers that the richest landowners in the village have become real bloodsuckers.
Full of unpredictable twists and turns, brimming with black humour and drenched in Romanian folklore, Strigoi is, according to Twitch, "both a handsome curio and a modern step forward from the stake that Let The Right One In drove into the heart of the genre last year."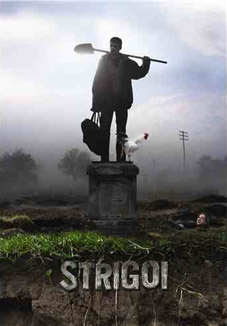 Winner of the Best Independent Feature at the Toronto After Dark Film Festival for its director Faye Jackson, Strigoi will be released on UK DVD on 22nd August 2011 by Bounty Films at the RRP of £16.34.
Extra features will include:
Lump – a short film by Faye Jackson;
Trailer.
The film will also be available for download on 22nd August 2011.