Masters of Cinema have announced two films for an August DVD release that are separated by ninety-five years of cinema history, F.W. Murnau's rarely seen 1921 Schloss Vogelöd and Pedro Costa's acllaimed 2006 Colossal Youth.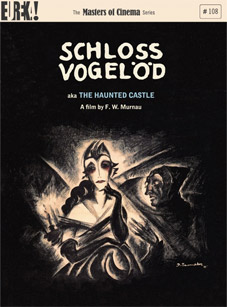 Schloss Vogelöd (Vogelod Castle)
One of the earliest (and eeriest) works by the legendary filmmaker F. W. Murnau, Schloss Vogelöd: Die Enthüllung eines Geheimnisses [Castle Vogelöd: The Revelation of a Secret, often referred to as The Haunted Castle] provides a vital glimpse into the development of the uncanny-suffused expressionistic style that became Murnau's hallmark and legacy.

A party of aristocrats assemble at a country manor for an autumn hunt. But a long-lingering question threatens once more to rear its head: who really murdered the Baroness's late husband?

With a riveting nightmare sequence that foreshadows the nocturnal fantasias of both Nosferatu and Phantom, and a masquerade conceit that looks backward to Feuillade and forward to Murnau's own Die Finanzen des Großherzogs, this languorous mood piece represents the latent material that will figure into a master director's later breakthroughs.
Schloss Vogelöd will be released on UK DVD on 22nd August 2011 by Eureka under the Masters of Cinema banner at the RRP of £20.42.
Featuring the original German-language intertitles with newly translated English-language subtitles, the disc will have the following extras:
The Language of the Shadows: Friedrich Wilhelm Murnau and His Films, a 31-minute documentary featurette by Luciano Berriatua on the early works of Murnau;
An illustrated booklet containing a newly translated essay on the film, vintage writings on Murnau, and more!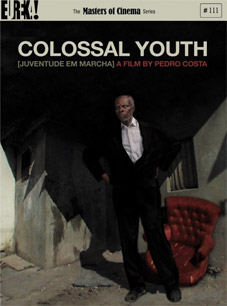 Colossal Youth (Juventude Em Marcha)
Across the course of history, only a relative handful of filmmakers can be said to have developed and refined a language of cinematographic expression which, inimitable, belongs to its creator alone. Pedro Costa, of our time, exists within this select group, and Colossal Youth is one of his sublime achievements.

An intimate epic wherein present and past move as one, Colossal Youth chronicles Ventura, the towering Cape Verdean who has assumed the role of surrogate "father" to an untold number of characters around Lisbon and its now-razed neighbourhood of Fontaínhas. Through Ventura's ghost-like visitations to figures such as Vanda Duarte (the central personage of Costa's previous In Vanda's Room) and repeated recollections of his past life as a newly migrated manual labourer, Costa explores the nature, and necessity, of storytelling in the course of the human adventure.

As with In Vanda's Room, Colossal Youth lays bare the residence of documentary inside of fiction (and vice-versa) using a digital video aesthetic in which every single image resonates with an indescribably poetic and rarefied force. The Masters of Cinema Series presents Colossal Youth in concert with Costa's complementary short works Tarrafal, The Rabbit Hunters, and Our Man – all for the first time in the UK.
Colossal Youth will be released on UK 2-disc DVD on 22nd August 2011 by Eureka as part of the Masters of Cinema series at the RRP of £20.42.
Featuring a director-approved transfer of the feature, presented in its original 25fps playback speed and newly translated optional English subtitles, the disc will have the following extras:
New and exclusive 17-minute video piece filmed at the Tate Modern, London, featuring Pedro Costa discussing Colossal Youth;
Original trailer for the film;
Three shorter works by Pedro Costa which complement Colossal Youth: Tarrafal (2007, 17 minutes); The Rabbit Hunters (2007, 27 minutes); and the first home video release of Costa's most recent work, Our Man (2010, approx. 23 minutes);
Finding the Criminal (2010, 120 minutes) — a new film by Craig Keller, featuring Pedro Costa in a 2008 conversation with Keller and Andy Rector on the history of cinema, cinema aesthetics, politics, music, and discovery;
A 56-page full-colour booklet containing writing on the film by French philosopher Jacques Rancière; an essay by the legendary Portuguese critic João Bénard da Costa; a facsimile reproduction of Ventura's letter from the film; and more.