Few film series can prompt a nostalgic smile as readily as Ealing Comedies, which at their best were inventive, quintessentially English, and joyously funny. One of the most fondly remembered of all is The Lavender Hill Mob, directed by Charles Crichton and starring the enviable quartet of Alec Guinness, Stanley Holloway, Sid James and Alfie Bass.
Henry Holland (Alec Guiness) has worked faithfully for 20 years as a bank transfer agent for the delivery of gold bullion. A shy retiring man, completely inconsequential to his employers, he has long dreamt of a way to execute his plan of the perfect gold robbery – the only catch being how to move the gold on once stolen. One day he befriends Pendlebury (Stanley Holloway), a maker of souvenirs. Holland remarks that, with Pendlebury's smelting equipment, one could forge the gold into harmless-looking toy Eiffel Towers and smuggle the gold from England into France. Soon after, the two plant a story to gain the services of professional criminals Lackery (Sid James) and Shorty (Alfie Bass). Together, the four plot their crime, leading to unexpected twists and turns.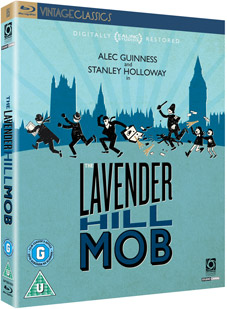 Previously released by Optimum as part of their Sid James Collection, The Lavender Hill Mob has been digitally restored and will be back in UK cinemas from 22nd July, and on DVD and Blu-ray on 1st August 2011 from Optimum Home Entertainment at the RRP of
Extra features will include:
Introduction by Martin Scorsese;
Restoration comparison;
Trailer;
Behind the Scenes stills gallery;
And more to be confirmed.
Also, to celebrate this re-release, Tally Ho! Cycle Tours along with British cinema expert Richard Dacre have designed three separate Central London bicycle tours around the most iconic filming locations from three classic Ealing comedies: The Lavender Hill Mob, Hue & Cry and Passport to Pimlico.