Julia, a woman suffering from a degenerative sight disease, finds her twin sister Sara, who has already gone blind as a result of the same disease, hanged in the basement of her house. Everything points to suicide, but Julia is compelled to investigate what she intuitively feels is a murder case. Determined to retrace her sister's final steps, she is drawn into a maze of threats and spiralling hidden dread – a dark world that seems to hide a mysterious malevolent presence.
As Julia begins to uncover clues to her sister's death, she is convinced that someone is watching her – someone who means her terrible harm. Those close to her begin to disappear and then to die. Her sight gone, confined to her sister's house, Julia finds herself trapped in a nightmare from which she cannot wake. Will she survive?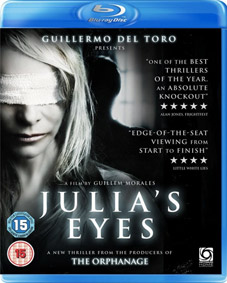 Co-produced by a certain Guillermo del Toro (The Devil's Backbone, Pan's Labyrinth), directed by Guillem Morales (The Uncertain Guest) and starring Belén Rueda (The Sea Inside, The Orphanage) and Lluís Homar (Fermat's Room), Julia's Eyes (Los ojos de Julia) will be released on UK DVD and Blu-ray by Optimum Home Entertainment on 12th September 2011 at the RRP of £17.99 for the DVD and £22.99 for the Blu-ray.
The following extras will be included:
Interview with producer Guillermo Del Toro;
Interview with director Guillem Morales;
Interview with lead actress Belén Rueda;
Interview with lead actor Lluís Homar;
B-Roll.