Bullied by the cool kids, Darren finds himself forced to act when his tormentors go too far by drugging and assaulting his best friend Xandrie. After being left for dead in the middle of nowhere, Xandrie suddenly makes a surprise return to school that sets off a chain reaction of events, threatening to trigger the implosion of Zack's elitist, self-made pedestal. Soon, the brothers' lives are at the mercy of the opinions of their disenchanted classmates.
Written and directed by Ben C. Lucas, Wasted on the Young is a tense high school drama starring Oliver Ackland (The Slap, Cloudstreet) as Darren, Alex Russell (Almost Kings) as cooler step-brother Zack, and Adelaide Clemens (X-Men Origins: Wolverine, The Pacific). The film is a stylish portrayal of wealthy, wired teenagers battling against a school's corrupt power structure, and was described by Eye For Film as being "like the best of this burgeoning subgenre, it has as much to say about adult social interaction as it does about youth."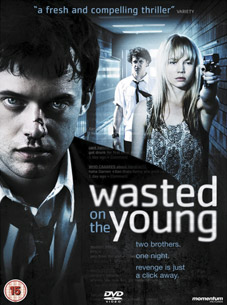 Wasted on the Young will be released on UK DVD on 15th August 2011 by Momentum Pictures at the RRP of £12.99.
No extra features have been listed.