Following a hugely successful UK theatrical release that saw it garnering a Five Star review in Time Out and Four Star reviews in Loaded, The Sun, the Daily Express, the Daily Mirror, the Daily Telegraph and Nuts magazine, 13 Assassins / Jûsan-nin no shikaku comes to DVD and Blu-ray this September on a wave of critical acclaim hailing it as "one of the greatest samurai movies ever made...stunning" (Loaded), "one of the most memorable – and shocking – action films in an absolute age...brutal, bloody, brilliant" (Daily Mirror) and "an immediate action classic...magnificent" (Mail On Sunday).
In mid-19th Century Japan the era of the samurai is beginning to fade as the feudal nation begins to enjoy a rare period of peace. But the fragile calm is soon threatened by the bloody rise of Lord Naritsugu, the Shogun's sadistic, psychopathic younger brother, whose position places him above the law and free to rape, mutilate and murder on a whim. Concerned that Naritsugu's actions will eventually destroy the Shogunate, top Shogun official Sir Doi covertly calls on esteemed and noble samurai warrior Shinzaemon Shimada to assassinate the evil Lord before it is too late. Shinzaemon willingly agrees and immediately gathers together an elite group of samurai to assist him in the task, knowing that what they are about to embark upon may well prove to be a suicide mission.
Following weeks of training and preparation, Shinzaemon and his men head off on a perilous journey through the mountains, hoping to ambush Lord Naritsugu and his entourage. However, on finally coming face to face with their target, the 13 samurai discover Naritsugu's men hugely outnumber them. Disregarding the odds, the fearless assassins continue with their plan and initiate a bloody showdown that they cannot allow to end until Naritsugu lies dying.
13 Assassins sees director Takashi Miike, the man behind such uncompromising and unforgettable movies as Audition and Ichi The Killer, indelibly stamping his trademark style on the Samurai genre with an ultra-violent, all-action, blood-spattered epic.
One of the most prolific, wildly unpredictable and controversial directors in cinema, here Miike reinvents himself once more "in top, slash-tastic form" (Variety), throwing in several obvious nods to the works of Akira Kurosawa and enough grotesquery to satisfy his loyal legions of fans to produce a "breathtaking ballet of blades and bloodshed" (Bizarre) that culminates in "a virtuoso 45-minute bloodbath you won't easily forget...a sustained frenzy of blistering choreographic skill that Hollywood won't top all year" (Daily Telegraph).
Executive produced by Toshiaki Nakazawa (producer of Departures, the winner of the 2009 Oscar for Best Foreign Film) and Jeremy Thomas (The Last Emperor; Merry Christmas Mr. Lawrence), Miike's remake of Eichi Kudo's classic 1963 samurai period action-drama Jusan-nin No Shikaku boasts a heavyweight cast featuring some of the biggest names in contemporary Japanese cinema, including Koji Yakusho (Babel; Memoirs Of A Geisha), Takayuki Yamada (252: Sign Of Life), Yusuke Iseya (Sukiyaki Western Django; Memories Of Matsuko; Casshern), Mikijiro Hira (Goemon) and Hiroki Matsukata (Tajomaru: Avenging Blade; Ichi). The film was nominated for the prestigious Golden Lion award at the 2010 Venice International Film Festival, and was the winner of four Japanese Academy Awards (for Best Cinematography, Best Art Direction, Best Lighting and Best Sound).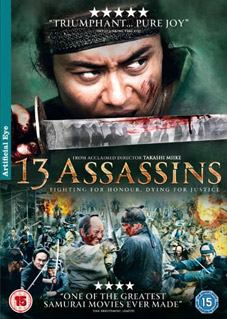 13 Assassins (cert. 15) will be released on DVD and Blu-ray by Artificial Eye on 5th September 2011 at the RRP of £15.99 for the DVD and £19.99 for the Blu-ray.