The directorial debut feature from BAFTA award winning filmmaker Hattie Dalton (The Banker), Third Star is an emotional road movie that is by turns comical, heartbreaking and uplifting in its telling of the story of a young man determined to make the most of what is left of his life.
Coming to terms with a terminal illness, James (Benedict Cumberbatch – Sherlock) invites his three closest friends, Davy (Tom Burke), Bill (Adam Robertson) and Miles (JJ Feild), to join him on a camping trip to his favourite place in the world, Pembrokeshire's picturesque Barafundle Bay. It's a raucous affair fraught with practical difficulties and deeply personal and ravaging revelations for all those involved but the journey introduces the four young men to a new world of courage, dignity, beauty, love and friendship that none have previously experienced. Along the way, they are forced to deal with a variety of camping nightmares, equipment disasters and surreal encounters involving a group of rowdy pub locals, a humourless ferryman and a bizarre beachcomber (Bonneville) obsessed with unearthing a shipwrecked consignment of extremely rare Star Wars action figures.
Third Star is enlivened by a script by Vaughan Sivell that, according to The Independent, "crackles with witty, natural-sounding lines and familiar-sounding conversations" and by cinematographer Carlos Catalan's "wonderfully liquid photography [that] pays the Pembrokeshire coastline its righteous due."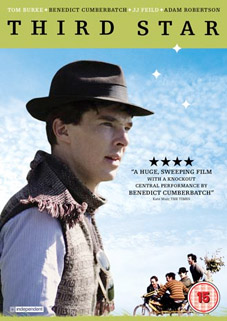 Third Star (cert. 15) will be released on DVD by Independent Distribution on 12th September 2011 at the RRP of £12.99.
Special Features include:
Behind the scenes featurette;
The Banker – Hattie Dalton's BAFTA-award winning short film;
One of Those Days – a short film by Hattie Dalton.