Although not as widely known in the west as some of his compatriots, Japanese filmmaker Masaki Koboyashi still made a considerable make with western cineastes with his multi-story 1964 Kwaidan. Other films in his oeuvre, such as The Human Condition (1959-1961) and Samurai Rebellion (1967), have launched attacks on the cruelty and inhumanity perpetrated by authoritarian power, but none are more brilliant than his visceral, mesmerising 1962 Harakiri [aka Seppuku].

In a magnificent performance, Tatsuya Nakadai (Yojimbo, The Face of Another, Ran) stars as Hanshiro Tsugumo, a masterless down-and-out samurai who enters the manor of Lord Iyi, requesting to commit ritual suicide on his property. Suspected of simply fishing for charity, Hanshiro is told the gruesome tale of the last samurai who made the same request – but Hanshiro will not be moved...

With its intricate structure and pressure-cooker atmosphere, Kobayashi's first jidai-geki period drama is a full-scale demolition job of samurai ideals and feudal hypocrisy, filmed with artistry and surgical precision, and scored by celebrated composer Toru Takemitsu. Adapted from the same source novel in 2011 by notorious auteur Takashi Miike, the original – winner of the 1963 Special Jury Prize at Cannes – still stands as a startling moment in Japanese cinema.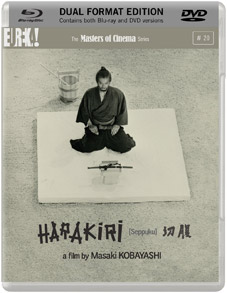 Harakiri will be release on UK dual format (DVD and Blu-ray) by Eureka as part of the Masters of Cinema series on 26 September 2011 at RRP of £23.48.
Featureing a new, officially licensed, Shochiku high-definition transfer (1080p on Blu-ray) and new and improved English subtitle translation, the following special features are included:
Original theatrical trailer;
Excerpt from a 1993 Directors Guild of Japan interview with Masaki Kobayashi discussing the film with director Masahiro Shinoda;
An illustrated 28-page booklet featuring a new essay by film critic Philip Kemp, a 1963 interview with Kobayashi, and rare archival production stills.