Brought up to be expert in all manner of criminal skills – from the martial arts to the art of con – Mac Ramsey (Ivan Sergei) and Li Ann Tsei (Sandrine Holt) are forced to use their expertise to fight crime. Working with a former cop, Victor Mansfield (Nicholas Lea), they are part of an elite law-enforcement agency that takes on forces that are too powerful, protected, or difficult for regular law enforcement agencies. The threats they encounter take them into startling, brutal worlds where the stakes are high and failure can earn you a bullet in the head...
A first for television, Once a Thief brought the unique excitement of Hong Kong films to the small screen, fusing romance, action and humour – all in the ballistic, unique style of John Woo, the director of unforgettable action thrillers A Better Tomorrow, The Killer, Bullet in the Head and Hard Boiled, who was the series executive producer.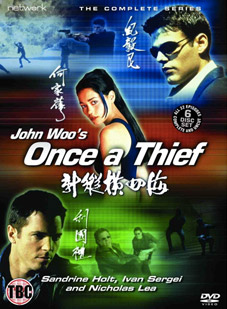 At long last, maverick Hong Kong action director John Woo's Once a Thief – The Complete Series will be released for the first time in any format in the UK as a 6-disc set on 29th August 2011 by Network Releasing at the RRP of £24.99.
The releaser contains the following episode titles:
Disc One: Big Bang Theory, Rave On, Trial Marriage, Art of Death;
Disc Two: Mac Daddy, Wang Dang Doodle, It Happened One Night, Drive She Said;
Disc Three: Jaded Love, Wedding Bell Blues, That Old Gang of Mine, The Last Temptation of Vic;
Disc Four: Mama's Boys, Li Ann's Choice, True Blue, Kangaroo Court;
Disc Five: Little Sister, The Director Files, Shaken Not Stirred, Politics of Love;
Disc Six: Family Reunion, Endgame.
No extra features have been listed.