After a bit of a quiet run for the UK distribution of Swedish films, things have livened up a little following the international success and acclaim of Tomas Alfredson's Let the Right One In. The latest export – it was only released in Sweden in January of this year – is the World War 2 drama Beyond the Border (Gränsen).
December 1942, Sweden is on the verge of being invaded. Two young soldiers leave their roadblock post to get to the Norwegian border to catch a glimpse of the occupying Nazis. Their adventure ends in a disaster, and the day after, Lieutenant Stenström finds out that one of the missing soldiers is his brother. Now he has to lead a rescue team behind enemy lines in a secret mission to retrieve his brother. Deep in the dark Norwegian woods Stenström realizes that many borders need to be crossed if they are to get out alive.
Beyond the Border is director Richard Holm's (Johan Falk - National Target and Johan Falk - Leo Gaut) intriguing drama about courage and love in the shadow of World War II. André Sjöberg (As it is in heaven, The Accident Rebel) who plays Stenström also wrote and produced the film together with co-writer/producer Johnny Steen.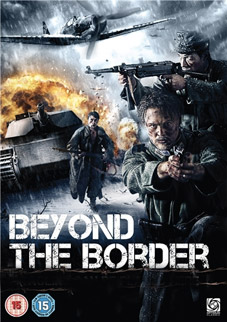 Beyond the Border wil be released on UK DVD by Optimum Home Entertainment on 8th August 2011 at the RRP of £12.99.
No extra features have been listed.