One of our favourite film titles of the late 1960s and one of most celebrated films of a genuienly great filmmaker, Sergei Parajanov's The Colour Of Pomegranates / Sayat Nova is an astonishing portrait of the 18th century Armenian poet Sayat Nova, the 'King of Song', and gets a UK Special Edition DVD release next month from Second Sight.
Paradjanov's aim was not a conventional biography but a cinematic expression of Sayat Nova's work, resulting in an extraordinary visual poem. Key moments in his subject's life are illustrated through a series of exquisitely orchestrated tableaux filled with rich colour and stunning iconography, each scene a celluloid painting alive with stylised movement.
One of cinema's most revered and beautiful films, The Colour Of Pomegranates was described by Channel 4 as "glorious," and has images that "are stunning and burn themselves into your brain." They're not lying.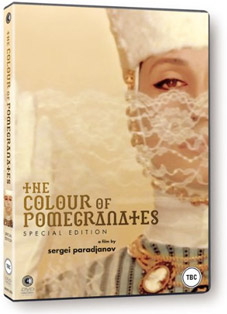 The Colour of Pomegranates: Special Edition will be released on UK DVD by Second Sight on 29 August 2011 at the RRP of £19.99.
Special features will include:
Introduction by writer and filmmaker Daniel Bird;
The World is a Window – Making The Colour Of Pomegranates, a new documentary by Daniel Bird;
Memories of Sayat Nova;
Commentary by Levon Abrahamyan (Anthropologist, Armenian Academy of Sciences), moderated by Daniel Bird.