It was the film that put Peter Jackson on the international film circuit. It was the film that rocketed Kate Winslet to fame. It was the film based on a crime that shocked a nation. Discover the darkly hypnotic and fantastical world of Heavenly Creatures.
Pauline is a student in New Zealand who has no affection for her family or her classmates, but when the beautiful and wealthy Juliet enrols at her school the pair become best friends. Through their shared tastes in art, literature, and music they begin to build an elegant fantasy world. However, when Juliet's parents threaten to separate the girls, they make a ruthless pact to preserve their fairytale forever, whatever the cost...
One of the most talked about and critically acclaimed films of 1994, Heavenly Creatures was the winner of the Silver Lion at the Venice Film Festival, was nominated for Best Original Screenplay at the Academy Awards and was included in The Guardian and Time Magazine's top ten lists of that year. Critics hailed Kate Winslet as Britain's new acting talent, singling out her mesmerising portrayal of school girl Juliet Hulme. Much praise was also directed at Peter Jackson (now the celebrated director of the Lord of the Rings trilogy), until then known for his singular horror comedies Bad Taste and Braindead, for his visionary and distinctive directing skills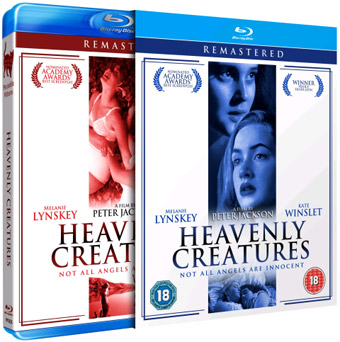 One of our all-time favourites this one, Heavenly Creatures will be released on UK DVD and Blu-ray by Peccadillo Pictures on 12th September 2011 at the RRP of £17.99 for the DVD and £22.99 for the Blu-ray.
Featuring a newly remastered transfer, both discs will have the following extra features:
UK and US trailers;
Looking Back – Rosie Fletcher, Alan Jones and Kim Newman remember Heavenly Creatures;
Image gallery;
Collector's postcard set;
Limited collector's sleeve.