Jigsaw puzzles can be maddening. They can drive you to distraction. You might even go so crazy as to take your own mother down with an axe... and that's only the beginning for one repressed teenager.
On a Boston university campus, forty years later, young girls are missing out. Missing out on hands, feet, arms and heads as a certain puzzled psychopath carves a bloody swathe through the college's female population. Only one tough cop has the stones to bring him in, but can he track down the slayer before all the girls are mincemeat?
From cult Spanish exploitation king, director Juan Piquer Simón (Slugs; Monster Island), comes Pieces (Mil gritos tiene la noche), a wonderfully perverse 80s slasher starring Christopher George (The Exterminator; City Of The Living Dead), Lynda Day George (Beyond Evil; Mission: Impossible) and Jack Taylor (The Ninth Gate; Conan The Barbarian) that was described by TerrorTrap.com as "sick, sleazy, demented and twisted… one of our guiltiest of guilty pleasures… deliriously fun" and by Hostel's Eli Roth as "a masterpiece of early 80s sleaze."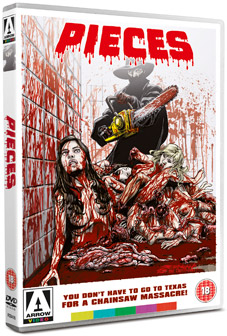 Pieces (cert. 18) will be released on DVD by Arrow Video on 5th September 2011 at the RRP of £15.99.
Special features will include:
Audio commentary by Fangoria magazine's Tony Timpone;
Introduction by star Jack Taylor;
Pieces Of Jack: An Actor's Experience Of Spanish Splatter – Actor Jack Taylor recollects his experiences of performing in Pieces;
Pieces of Deconstruction: Looking Back At A Grindhouse Gorefest – Hostel producer Scott Spiegel, filmmaker Howard S. Berger, Fangoria's Michael Gingold and horror historian Santos Ellin Jr. reflect on the lasting legacy of Pieces;
Reversible sleeve with original and newly commissioned artwork;
Double-sided fold out artwork poster;
Collector's booklet featuring brand new writing on the film by Stephen Thrower, author of Nightmare USA.