if the pre-publicity is to be believed, it's Tron meets Blue Velvet in Black Heaven, a stylish French techno-thriller from the creative partnership behind Lemming and Harry, He's Here To Help. Gilles Marchand directs from a script co-written with his regular collaborator and fellow director Dominik Moll, and the film stars French screen goddess and Cesar Award nominee Louise Bourgoin (The Extraordinary Adventures Of Adele Blanc-Sec; The Girl From Monaco), and fellow Cesar Award nominees Gregoire Leprince-Ringuet (Stranded; The Princess Of Montpensier) and Pauline Etienne (Silent Voice; Restless).
Young lovers Gaspard (Leprince-Ringuet) and Marion (Etienne) are enjoying summer in the south of France when they stumble upon a lost cell phone. Intrigued by some of the text messages on the phone, they decide to secretly track down its owner. What begins as a seemingly harmless game takes a dark turn when they find a man dead in an exhaust fume filled car, the victim of what appears to be a bizarre suicide pact. Next to him is an unconscious girl, Audrey (Bourgoin).
Several days later, Gaspard coincidentally runs into Audrey at the apartment of a local drug dealer and immediately becomes obsessed by this beautiful and enigmatic woman. His fixation leads him into a dangerously addictive online role-playing video game, Black Hole, in which he sets about seeking out Audrey's 'avatar', Sam, a fetishistic nightclub singer who lures victims in the virtual world and seduces them into committing suicide with her. But Gaspard soon discovers that for Audrey/Sam the line between fantasy and reality is rapidly disappearing.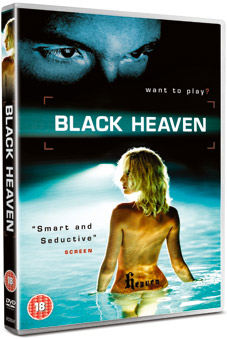 Black Heaven (cert. 15) will be released on DVD by Arrow Films on 5th September 2011 at a to be confirmed price. Unusually for Arrow, no extra features have so far been listed.
The trailer is below, or follow the link here.