One of America's most interesting actors, equally at home in mainstream and independent films, just has to be Jeff Bridges, who became the darling of cult film fans the world over for his glorious turn as Jeff Lebowski, aka The Dude, in the Coen Brothers favourite The Big Lebowski. Now Second Sight have announced two of his pre-Dude films for a UK DVD release in September, the 1973 The Last American Hero and the 1986 8 Million Ways to Die.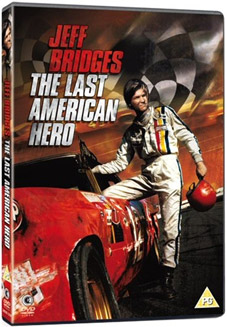 The Last American Hero
Jeff Bridges gives a spellbinding performance in The Last American Hero, as a moonshine smuggler who became one of NASCAR's first champions.
Elroy 'Junior' Jackson (Bridges) is a kid full of attitude who helps his bootlegger father transport their homemade booze. When Junior crashes into a police blockade, they arrest his father who is looking at a lengthy prison stretch. Junior must raise some fast cash to get him released and hits the demolition derby circuit. His natural skill behind the wheel sees him swiftly move on to stock car racing where he meets a promoter and finally gets the chance to make it big on the famous NASCAR circuit.
Loosely based on a series of Esquire articles by Tom Wolfe, it tells the true story of young hillbilly, Junior Johnson, who became an American car-racing hero. It was directed by Lamont Johnson and features a fine supporting cast that includes Gary Busey, Ned Beatty, Valerie Perrine, Ed Lauter and Geraldine Fitzgerald.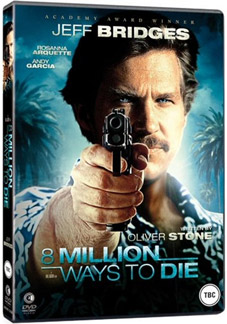 8 Million Ways to Die
8 Million Ways To Die is the gripping final film from legendary director Hal Ashby (who was fired by the studio on the completion of principal photography) with a screenplay by none other than Oliver Stone. It stars Jeff Bridges in the lead role, and boasts a supporting cast that includes Rosanna Arquette, Alexandra Paul, Randy Brooks and Andy Garcia.
Jeff Bridges plays alcoholic LA drugs cop Matthew Scudder who shoots a suspect in a drugs raid and spirals downhill fast losing both his job and his wife. He tries to clean up his act and quit drinking, but this isn't easy when a hooker named Sunny, begs him for protection and winds up dead. He is drawn back into a world of vice as he hunts down her killer among LA's seedy underbelly of pimps and drug dealers.
The Last American Hero and 8 Million Days to Die will be released individually on UK DVD on 12th September 2011 at the RRP of £15.99 each.
No extra features have been listed for either disc.