It's 1963 and Paris is sizzling with sex. The stylishly butch Gigola spends her days roaming chic cafés, taking on the criminal underclass, enticing pretty femmes away from their pimps, breaking hearts and making enemies along the way. Her evenings are spent in famous lesbian cabaret bar Chez Moune, picking up rich older women who keep her flush.
Based on the long censored novel of the same name, Gigola captures a little known chapter in Parisian history in which eroticism defied conventional morals, and was decribed by Peter Bradshaw in The Guardian as "steamy, saucy, racy and suffused with the feeling of wickedness you might get from drinking spirits before lunch or smoking in church... a fantastically naughty, silly and enjoyable film."
Directed by first-timer Laure Charpentier, from whose 1972 novel the script was adapted, Gigola stars Marisa Paredes (All About My Mother, The Skin I Live In), Rossy De Palma (Women on the Verge of a Nervous Breakdown), Eduardo Noriega (Open Your Eyes, The Devil's Backbone), Thierry Lhermitte (The Dinner Game), Marisa Berenson (I Am Love), Marie Kremer (Hidden), and introduces Lou Doillon, daughter of Jane Birkin, as the eponymous Gigola.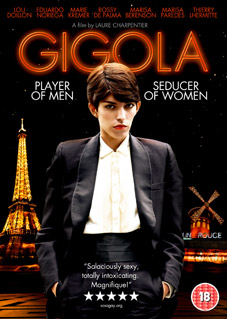 Gigola will be realsed on UK DVD on 14th November 2011 by peccadillo Pictures at the RRP of £14.99.
Extra features will include:
Trailer;
Gallery;
Making-of featurette.